02.08.2023
Creating a Cutting Edge Brand for Natural Health & Positive Wellbeing
At Simul Digital, we are privileged to partner with businesses that are passionate, driven, and determined to make a positive impact on their industry. One such partner was Natural Thrive, a family-owned business based in the Midlands, set on a mission to introduce natural and organic supplements to a broad audience.
The health and wellness market they ventured into was crowded, teeming with numerous competitors all vying for attention. This fact, however, only bolstered their resolve, and with Simul at their side, they dared to dream big.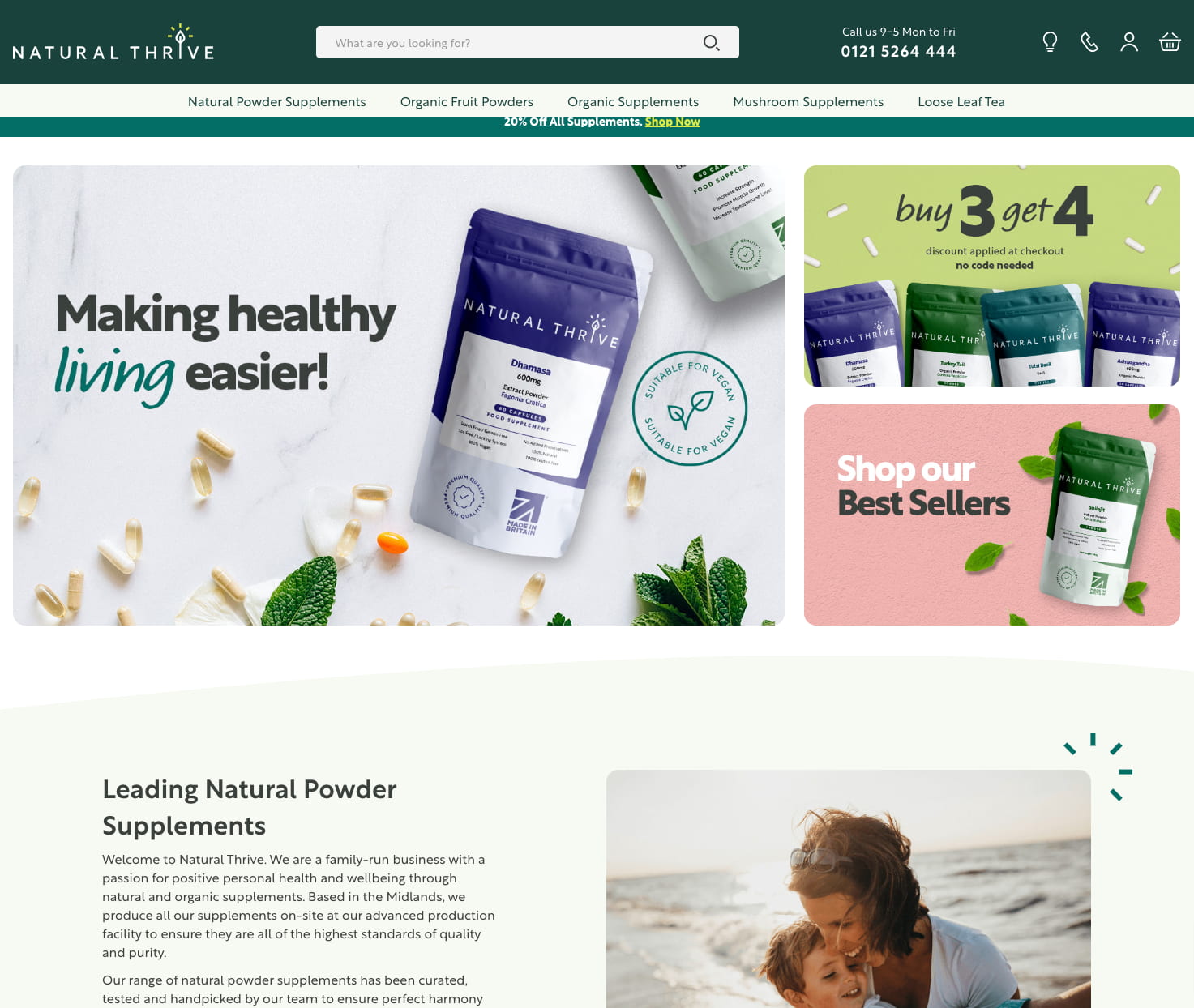 Conceptualising a Unique Identity: The Genesis of a Brand

The journey of Natural Thrive is a testimony to what can be achieved when creativity, innovation, and deep industry insight merge. It was a fast-paced, exhilarating project, spearheaded by our dedicated team.
We worked in close collaboration with the business owner, over a number of brand and business workshops aiming to grasp their vision in its entirety. It was these insights that allowed us to transform their aspirations into a tangible brand, one capable of capturing the hearts of consumers.
Visual aspects of a brand play a pivotal role in customer perception, often serving as the first interaction point between the brand and potential customers. Being well aware of this vital factor, we centred our efforts on the creation of engaging, attractive labelling. We also carefully curated a palette of vibrant colours that perfectly encapsulated Natural Thrive's commitment to natural and organic supplements.
Style and tone were equally crucial in this creative journey. We chose a style that reflected simplicity and vitality, resonating with the essence of natural elements. The result was a harmonious blend of aesthetics and ethos, breathing life into the Natural Thrive brand.

---
Designing a Digital Persona: Crafting the Online Presence of Natural Thrive

With the foundation of the brand firmly established, our attention shifted to the task of designing and constructing the digital face of Natural Thrive. We were tasked with creating an e-commerce platform where the brand could showcase and sell its extensive product range.
The process was an intricate dance of structure, organisation, search metrics, competition and product management. Each product was unique, featuring individualised labelling that fell perfectly in line with the brand identity we had so carefully crafted. No detail was too small; every nuance was scrutinised to ensure a cohesive and unified shopping experience for the customers.
The result was a seamless, user-friendly e-commerce website that was a true reflection of the brand's ethos. Its features allowed for effortless navigation and a swift, streamlined purchase process. From product browsing to checkout, we made every effort to make the customer's journey as smooth and intuitive as possible.
Leveraging Content Strategy and SEO Power: Building a Strong Online Presence

Once the website launch was successful, our strategic focus pivoted to the creation of a robust content strategy. The goal was to enhance the website's organic visibility by crafting engaging blog posts and other forms of valuable content. This wealth of high-quality, enriching content was designed not only to engage existing customers but also to draw in potential customers exploring the health and wellness sector.
Simultaneously, we leveraged both organic and paid search strategies to drive significant traffic from day one. This dual approach was instrumental in building a formidable online presence for Natural Thrive, even in the fiercely competitive health and wellness market. It wasn't just about getting visitors to the site; we were focused on attracting those genuinely interested in what Natural Thrive had to offer.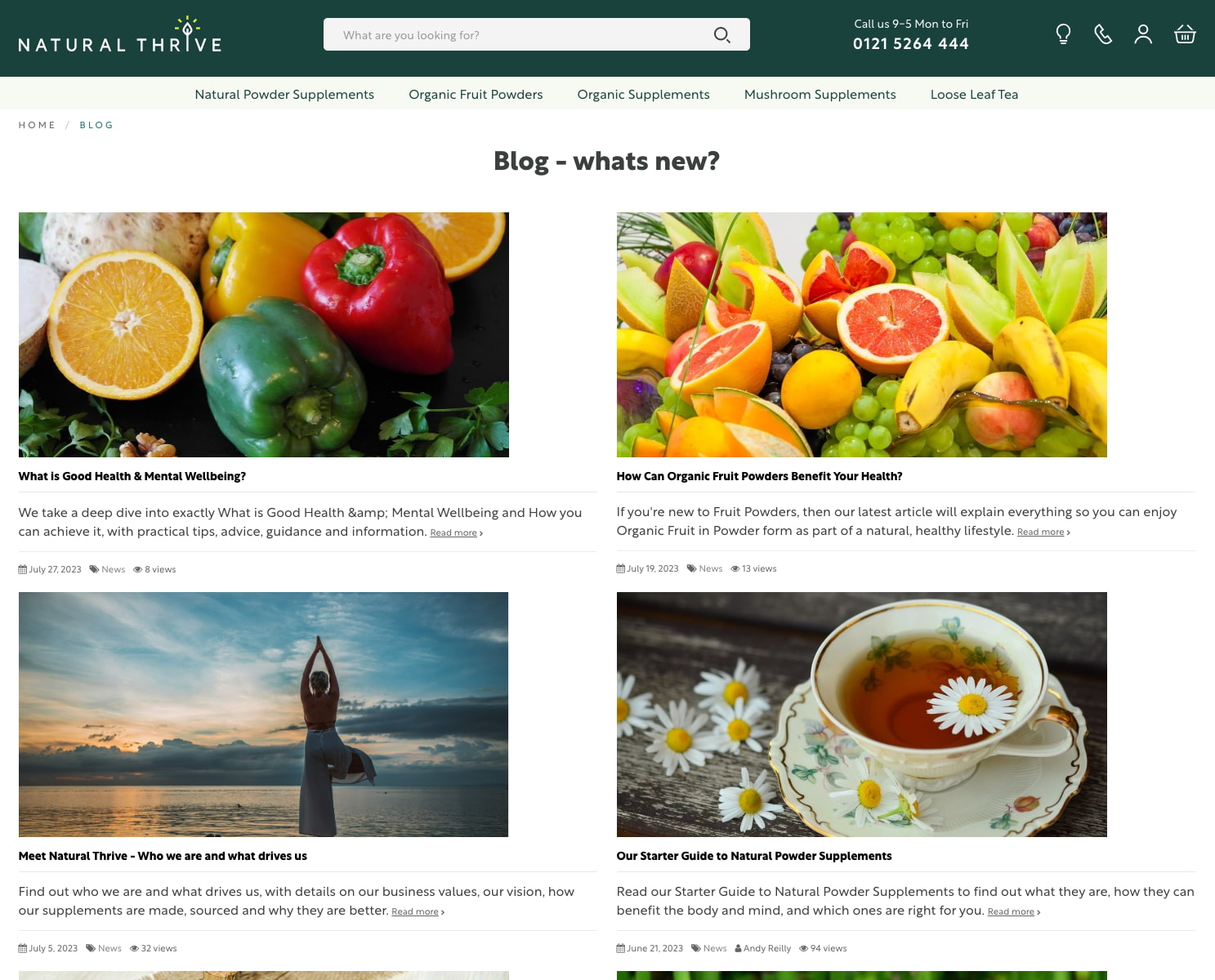 Educating the Market: An Insight into Natural Thrive's Diverse Product Range


One of the fundamental aspects that sets Natural Thrive apart from its competitors is its diverse range of health and wellness products. Our team at Simul played a crucial role in bridging the gap between the brand and its customers, helping to educate them about this broad product spectrum.
Natural Thrive offers a wide array of products, including Powder Supplements, Organic Fruit Powders, Organic Supplements, Mushroom Supplements, and Loose-Leaf Tea. Each of these product categories was designed to cater to the various health and wellness needs of their customers.
Powder Supplements and Organic Fruit Powders serve as a convenient and versatile source of essential nutrients. These products are easy to incorporate into daily diets and offer a multitude of health benefits, including immune support, energy boost, and overall well-being.
The Organic Supplements range extends the philosophy of 'natural and organic' beyond food. These products are crafted to supplement the nutritional needs of the customers, promoting a healthy lifestyle using ingredients that are both organic and sustainable.
Mushroom Supplements have grown in popularity due to their potential health benefits, including immunity boosting, cognitive function support, and anti-inflammatory properties. Natural Thrive's Mushroom Supplements are made from potent mushroom extracts, ensuring the highest quality and efficacy.
Loose Leaf Tea is a classic health beverage, known for its detoxifying properties and rich antioxidant content. Natural Thrive offers a variety of loose-leaf teas, each one with its unique taste and health benefits.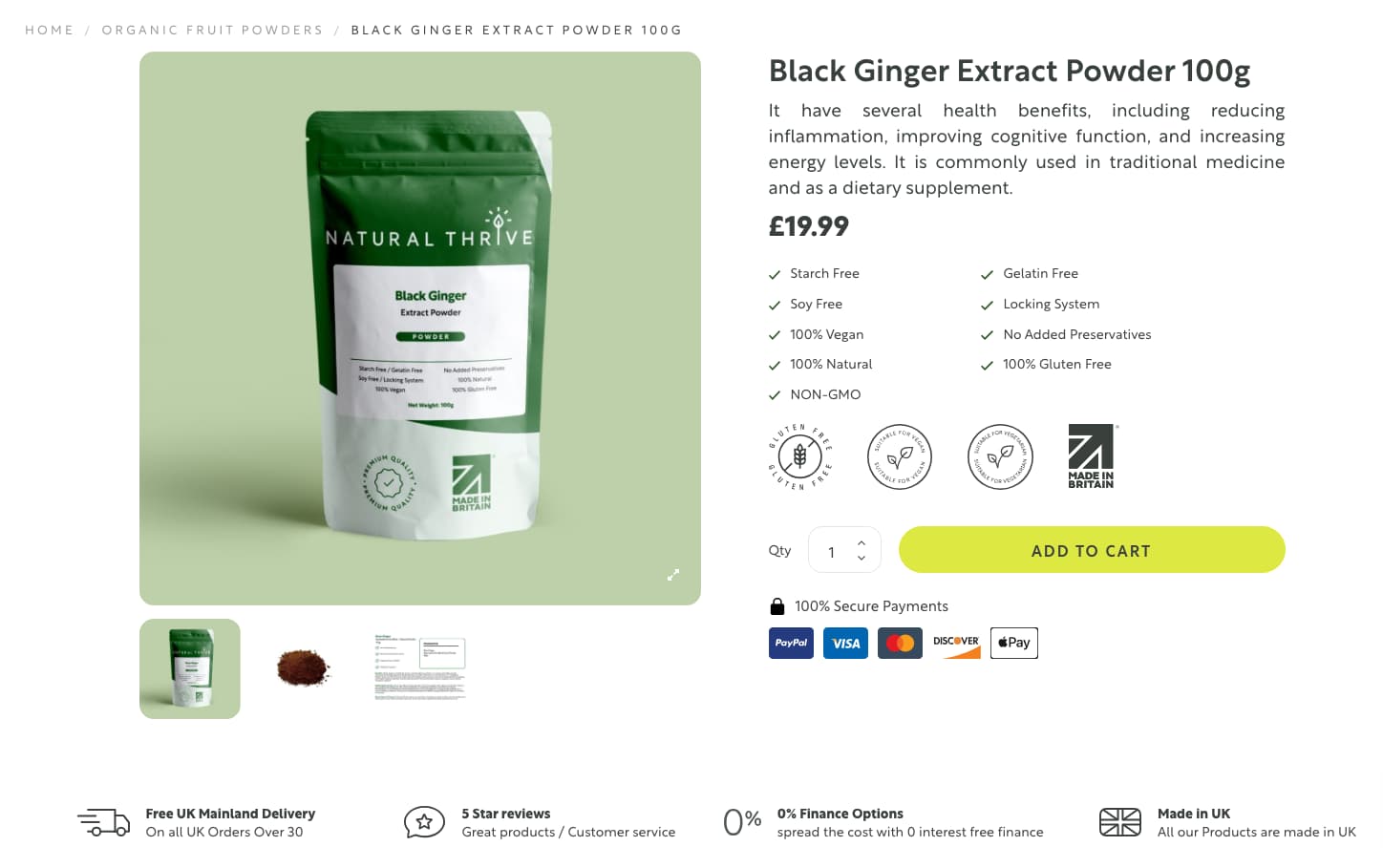 By creating compelling and informative content around these products, Simul was able to elucidate their benefits, helping customers make informed decisions about their health and wellness journey. The goal was not just to sell a product, but to educate customers on the holistic benefits these products provide, and how they could seamlessly incorporate them into their lifestyles for improved health and wellbeing.
This endeavour of educating the market not only served to enhance the Natural Thrive brand's reputation but also built a loyal customer base that appreciates the brand's commitment to quality, transparency, and the health of its customers.
We believe that an informed customer is a satisfied customer. By aligning our strategies with this belief, we helped Natural Thrive carve out a niche in the crowded health and wellness industry.

Delivering Results at Lightning Speed

The journey from brand creation to digital launch was a swift one, an accomplishment made possible by the collaborative efforts of our team and the client. The fruits of our labour were immediately apparent, with a 180% growth in conversions and a boost in online visibility by over 500%.
This exceptional growth wasn't just an indicator of how the project had been swiftly executed, but also a testament to its effectiveness. Chris Alan, Director of Natural Thrive, encapsulated this sentiment perfectly when he said, "It has been a pleasure working with Simul Digital on launching our brand… We're thrilled with the final result! We look forward to growing our e-commerce website with them."
Uncover the Natural Thrive Journey in More Detail

We invite you to delve deeper into the Natural Thrive project. Our comprehensive case study offers a detailed exploration of the project, complete with a range of images and additional information.
At Simul, we are passionate about turning visions into reality. If you're prepared to take your brand to unprecedented heights, reach out to us today and let's embark on a journey together.